Disney Hotels and Resorts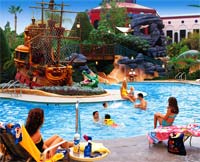 When you're making your vacation to Central Florida you probably are planning to visit the Walt Disney World theme parks. The Walt Disney World Resort has four separate theme parks, the Magic Kingdom, Hollywood Studios, Epcot and of course the Animal Kingdom. Each theme park takes roughly a day to complete, so it stands to reason you will be spending at least three or more days in the area. If you don't have a place to stay then it would be a good idea to look into some of the Disney Hotels.
As stated above the Walt Disney World Resort is home to four separate theme parks, as well as two water parks. Since the resort is such a large area it is also home to a variety of other vacation opportunities, such as the Disney Vacation Club as well as a wide variety of Disney Hotels . Disney owns and operates over twenty separate hotels and resorts, offering you a wide selection of places to stay during your visit. Whether you're looking for a themed place to stay or just a luxurious resort you can be sure to find it here at one of these fantastic accommodations.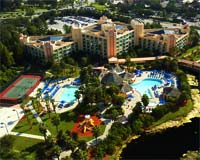 Many if not all the hotels and resorts at Disney have large pools and entertainment. In fact if you're looking to visit the parks transportation is offered from your room to the park of your choice. This means that when you stay at a Disney World Hotel just about all your necessities are taken care of. Because of the Florida heat especially during the summer (when most vacations take place) having a pool to hang out in can be a god send. Cooling off during the day and hanging out at the pool can be a highlight of your visit! Most Disney Hotels have events and entertainment around the pool, making your visit even more memorable.
With our fantastic prices on Disney World Hotels and Resorts you can make your vacation to the Central Florida area a rewarding and inexpensive visit! Stay in one of the areas top resorts or hotels for a great price, what more could you ask for? Whether your building your own vacation or looking for a package we can assure you that you have come to the right place!